Heal
Primary Care Chicago
8:00 AM
-
6:00 PM
8:00 AM
-
6:00 PM
8:00 AM
-
6:00 PM
8:00 AM
-
6:00 PM
8:00 AM
-
6:00 PM
8:00 AM
-
6:00 PM
8:00 AM
-
6:00 PM
Find your Heal provider in Chicago, IL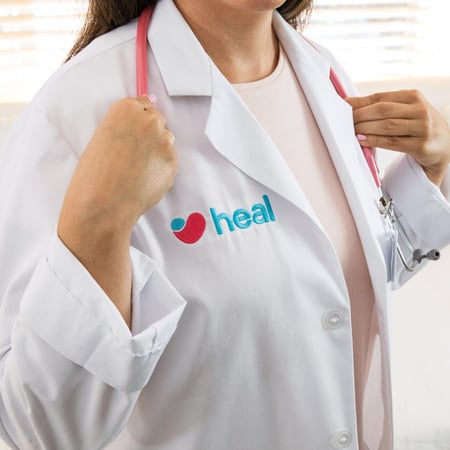 Mona Clor, MD
Primary Care services available in Chicago, IL
Respiratory Infections

Virus

Ear infection

Strep throat

Sprains and strains

Rash

Vomiting

Urinary tract infection (UTI)

Muscle and joint injuries

Adult Vaccines

Flu shots

Physicals

Depression screening

Diet counseling

Sexually transmitted infection (STI) screening

Smoking cessation

Women's health services

Allergies

Asthma

High blood pressure

High cholesterol

Fatigue

Preventative Care

Anxiety

Stress

Bipolar and other disorders

Loneliness and Isolation
In Chicago, Heal is in network with



FAQs
Heal offers house calls and telemedicine calls with licensed, caring providers from the comfort of your own home. Heal is covered by Medicare and many Medicare Advantage insurance plans, including: Humana, Wellcare, Aetna, and UnitedHealthcare. Heal providers are available 8AM to 6PM, 365 days/year. To check availability in your zip code, click here.

Providers booked using Heal can provide treatment for anything you would see your typical primary care provider for, including but not limited to: colds and coughs, fevers and flus, headaches and ear infections, strep and sore throat, stomach aches and abdominal pain, bruises and belly aches, stitches, stitch removal, allergies, rashes, cuts and scrapes, and sports injuries. They can also provide adult physicals and flu shots. See a detailed list of types of care offered. Your provider will discuss with you any post-visit treatment plan, which may include recommended follow-up visits, diagnostic tests, treatments, medications and/or behaviors or practices, that may assist in your recovery or improve your health. Depending on the reason for your house call, at your provider's discretion, they may draw labs, refer you for imaging or to a specialist, or electronically prescribe medications to your preferred pharmacy. Certain third-party services, such as lab tests, have additional charges, and will not be performed without your consent.

The doctors and nurse practitioners are carefully vetted and thoroughly credentialed, licensed, and board-certified. Heal providers are trained on telemedicine and house call medicine and carry with them state-of-the-art tools and technologies. Providers are licensed in Internal Medicine or Family Medicine. Heal providers are employees or contractors for Heal At-Home Medical, an Independent Professional Medical Corporation.

Heal serves 80 million Americans in 8 different states. Our primary care service is available in parts of the following states: Georgia, Illinois, Louisiana, North Carolina, New Jersey, New York, South Carolina and Washington. *We are continuously expanding our Heal house coverage areas; at this time, house calls are not available statewide in all states. To make it easier on you, simply insert your zip code here to see if we currently provide house calls to your area.

Heal is covered by most insurance providers, and your out-of-pocket cost is set by your insurance provider depending on the service you select. Usually a Heal visit is the cost of a co-pay, and some preventive services are covered by your insurance provider at no cost to you. If you're still in your deductible period, you may be charged the insurance contracted rate, which counts toward your deductible. Certain third-party services, such as lab tests, have additional charges, and will not be performed without your consent.

All providers booked using Heal are in-network with Medicare and select Medicare Advantage insurance plans in the areas we serve, including: Humana, Wellcare, Aetna, and UnitedHealthCare. The best way to check insurance eligibility is to download the Heal app and enter your insurance information. You can also email support@heal.com or call (844) 644-4325. For questions specific to your insurance plan, please call your insurance provider.

We've implemented extensive safety measures for house calls to keep patients and medical teams safe: medical teams wear PPE (such as masks and gloves), sanitize themselves and equipment before and after each visit, and will sit 6 feet away from you, ideally in a well-ventilated private space, such as a back yard. You will also be required to wear a mask if you have one. If you have symptoms for COVID-19, including fever, cough, shortness of breath, body aches, or sore throats you will be required to have a telemedicine visit with us, prior to any house calls.

During a house call, Heal providers are fully equipped to care for any issue typically seen in a doctor's office. The Heal team that comes to your door will include a licensed provider and a certified medical assistant (MA). The MA is there to chart your vitals, draw labs, run tests and assist the provider. The provider is there to care for you – to treat the issues you know you have and to answer any questions that may arise. A Heal house call is unlike any doctor's appointment you've had before. An unhurried, caring provider will take the time to learn your health history in order to develop a care plan for you, and not just the issues you face at the moment.

Please prepare a clean, quiet space for the house call. We love your family, friends, neighbors, and pets, however, your provider strives to provide the best healthcare possible and ensure your privacy. Having a safe environment will help your provider do that. Also, make sure the patient is available for the house call. If you meant to book for another patient, please call (844) 644-4325.

Telemedicine is a form of receiving clinical care via phone or video calling. This type of care is also referred to as telehealth, remote care, or virtual care. For video calling, you can use the Heal iPhone or Android app. For a phone call, you can use your landline or cell. With Heal telemedicine, get treatment from your provider remotely, from anywhere. Please note, you must download our app to participate in video calls with our medical team.